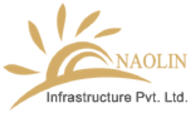 Naolin Infrastructure Pvt. Ltd.
Naolin Infrastructure Pvt. Ltd. has grown consistently over a decade establishing good infrastructure in the organization and acquiring substantial retaining teams that have gained experience in executing diverse works such as EPC of Power Transmission & Distribution, Telecom, Irrigation, Water & Waste Water Infrastructure Projects. Renewable Energy etc.,
In view of the current market scenario in the country where the focus on development is all- time high with the launch of various ambitious projects by Shri. Narendra Modi, Hon Prime Minister including "Digital India" with an outlay of Rs.110,000 crores, 100 Smart Cities Project with a total estimated cost of Rs.48,000 crores, Rajiv Gandhi Grameen Vidyutikaran Yojana (RGGVY) (Name Changed to Deendayal Upadhyaya Gram Jyothi Yojana) for Rs.43,033 crores, the target to provide 100 Giga Watts capacity of Solar Power in the country by 2022 and Rural Water Supply (RWS) Scheme (Water Grid) of Telangana State Government with an outlay of Rs.30,000 crore, and the Central Government plan to build 1000KM of Expressways with an investment of Rs.16,680 Crore under its NHDP programme on design, build, finance, operate, and transfer (DBFOT) basis during this year,  etc. we are very confident of progressing at the right pace, focusing on the verticals headed towards development.
Contact Information
Naolin Infrastructure Private Limited, Raj Bhavan Road, 3rdFloor, Somajiguda, Hyderabad, Telangana, India