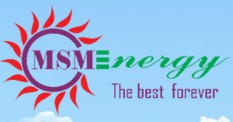 Modern Solar Pvt. Ltd.
About Us
Modern Solar (P) Ltd. (MSPL) is an end-to-end solar solution expert, pioneering Green innovation in India since 2010. We provide solar panel manufacturing, project design, engineering, installation, O&M and solar consultancy services for solar rooftop power plant, solar irrigation pumping, solar home lighting and microgrids. We make solar affordable by offering bank financing and RESCO/OPEX models. MSPL has a state-of-the-art Solar PV manufacturing facility at Falta Special Economic Zone in West Bengal, along with corporate offices in Kolkata, Raipur, Jaipur and 
Lucknow. The manufacturing facility is ISO 9001:2008 & 14001:2004 accredited with technological collaboration from Ecoprogetti (Italy). Modern Solar also provides Engineering, Procurement and Construction (EPC) services for managing site-specific design, construction, commissioning, and the installation and tracking of data monitoring systems. Modern Solar's EPC is a powerful partner in the creation of successful Solar Power plants. The company is currently executing MW scale turnkey EPC projects for Power Grid Corporation Ltd, Central Electronics Ltd, West Bengal Green Energy Development Ltd (WBGDECL), RRECL, CREDA, for which the company is planning to fast expand its offices across India. A plant expansion plan for additional 100 MW, with a second manufacturing facility in Gujarat, has been envisaged immediately to meet the EPC execution targets.
MSPL is empaneled under MNRE for designing, engineering, supply, installation and commissioning of turnkey EPC projects across India. MSPL, Energie™ modules range from 5 Wp – 335 Wp, which are TUV Certified and conform to IEC (International Electro-Technical Commission) standards for various Solar On–Grid and Off–Grid applications. With high standards of quality manufacturing & engineering excellence, along with a dedicated and experienced project management team, Modern Solar is committed to offer the lowest cost of energy to its clients' across all the operating verticals.
Modern Group of industries has been innovating technology and adapting state-of-the-art engineering techniques for the past 30 years in various fields including jewellery manufacturing, conveyor systems and Solar PV module manufacturing.
Contact Information
2/5, Sarat Bose Road, Sukhsagar, 2nd Building, 2nd Floor, Kolkata 700 020