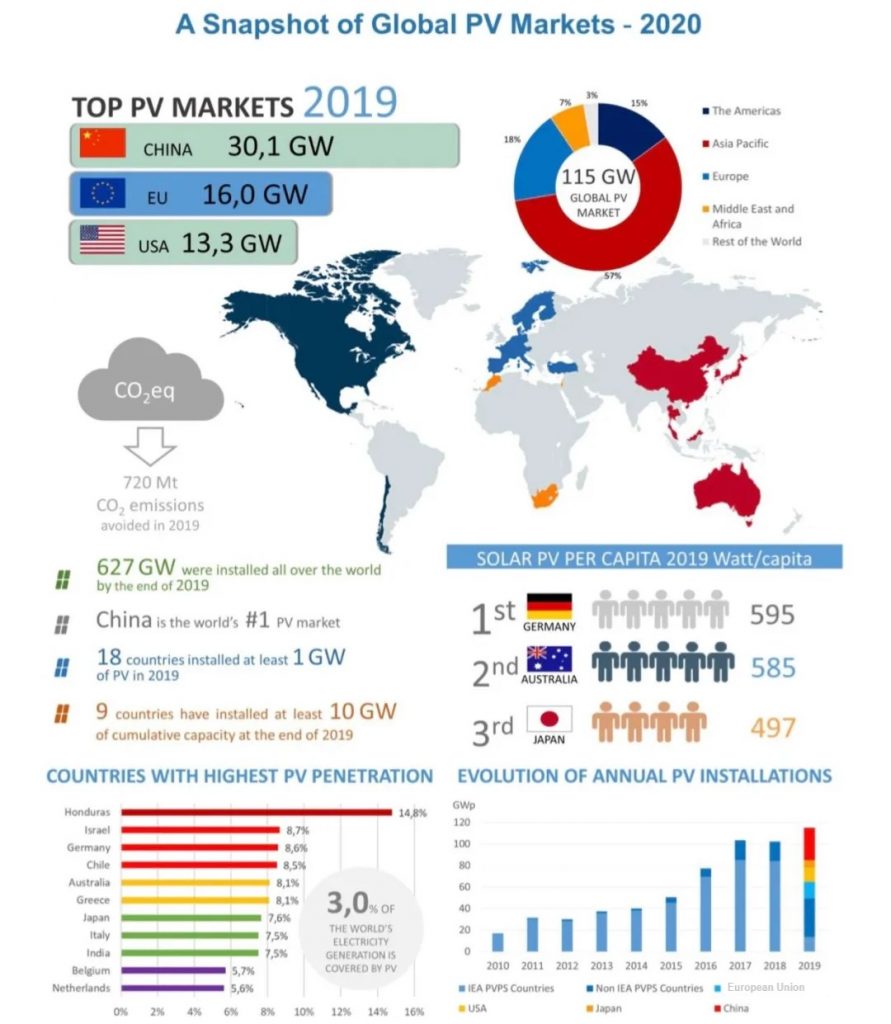 We have been witnessing continuous growth in global solar photovoltaic installations. This growth has been spurred by fallout's of environmental issues of fossil fuels, declining costs of silicon materials & related technologies and investment allocations by many private and government funds across the globe.
According to the latest International Energy Agency (IEA) report, we have witnessed 114.9 Giga Watts (GW) of global photovoltaic installations during in 2019 alone taking the total capacity of solar photovoltaic to 627GW.
China
The Chinese photovoltaic market has topped with 30.1 GW of solar PV installations during 2019. This market has been continuously on decline since 2017 due withdrawal of various subsidy programs by the Govt of China. Chinese solar PV installations were 53 GW in 2017 and 43 GW in 2018.
Europe
However, markets outside of China have seen an increase of solar PV installations from 59 GW in 2018 to 84.9GW in 2019, a massive increase of 44%. Among them, the installed capacity of the European Union is close to 16 GW, and the rest of Europe is standing at about 5 GW during 2019. Among the major European countries which have contributed to this growth are like Spain 4.4 GW, Germany 3.9 GW, Ukraine 3.5 GW, Netherlands 2.4 GW and France 0.9 GW during 2019 alone. The report suggests that these countries have experienced a good year on year growth, and there have been large-scale project installations in the solar PV sector in 2019.

Americas
The American market grew slightly, and the United States experienced accelerated growth in 2019, with installed capacity reaching 13.3 GW, of which 60% were installed in public utilities projects. Brazil has become the second largest market in the Americas, with an installed capacity of approximately 2.0 GW in 2019, followed by Mexico, with an installed capacity of approximately 1.0 GW in 2019. Chile installed 700 MW, the growth was relatively stable, and Argentina installed about 500 MW, a record high. The Canadian market is quite sluggish, with an annual installed capacity of approximately 200 MW. In 2019, the Americas region will account for approximately 16% of the global photovoltaic market.
Asia
Asia continues to dominate the global photovoltaic market in 2019 as well. In 2019, 6 of the top 10 countries with installed capacity in the Asia-Pacific region are China, India, Japan, Vietnam, Australia, and South Korea. Another important market i.e. , India, has experienced a slight decline, with an annual installed capacity of approximately 9.9 GW, of which approximately 1.1GW is for distributed or off-grid projects. Japan's installed capacity is ranked fifth with about 7 GW. In addition, some bright markets are becoming the new mainstream markets, they include: Vietnam 4.8 GW, Australia 3.7 GW, South Korea 3.1 GW, UAE 2.0 GW, Egypt 1.7 GW, China Taiwan 1.4 GW, Israel 1.1 GW, Turkey 0.9 GW.
Many reports but one conclusion
Prior to this report, another international agency, IRENA, has also released a similar report. According to the statistics released by IRENA, the installed solar PV capacity in 2019 was 98 GW, which is in contrast to the data released by IEA (115 GW). The data provided by some of the consulting companies like Bloomberg New Energy Finance is 118 GW and by IHS Markit is about 120 GW. According to our analysis, these data inconsistencies are due to consideration of AC-DC power.
There could be many reports but all suggests that the solar PV Industry has a very bright and vibrant future in the next 20 years !